Rare Civil War African American U.S.N. Sailor's Discharge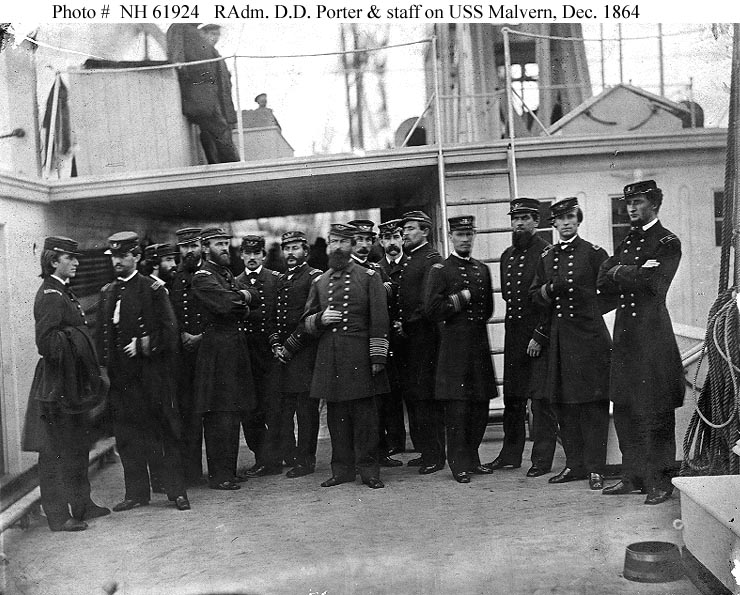 Rear Admiral David Dixon Porter, USN, Commanding, North Atlantic Blockading Squadron. (center) With members of his staff, on board his flagship USS Malvern in Hampton Roads, VA, December 1864. The officer standing at far left is LCDR. William B. Cushing, USN.
Rare Civil War African American U.S.N. Sailor's Discharge – Civil War, identified navy items are always markedly more difficult to find than identified items owned and used by land troops. This discharge, for a U.S. Navy sailor, is rare enough, but the recipient of the discharge makes this document of the utmost in rarity. Identified as the recipient of this 1865 naval discharge, is Landsman Israel Powell, an African American sailor. According to the discharge, Powell enlisted in the U.S. Navy in July of 1863; his eyes, hair and complexion are all listed as "colored", and his place of birth is listed as "Africa". Research, conducted by Perry Adams, indicates that Powell was once a slave and considered to be "contraband" at the onset of the war.
Additionally significant, is that Powell was honorably discharged while serving on the USS Malvern, as denoted on this discharge. The USS Malvern was the flagship of famed U.S. Naval commander Rear Admiral David Dixon Porter, who commanded the North Atlantic Blockading Squadron, during the Civil War. The Malvern had the challenging and important task of attempting to bring President Abraham Lincoln and son Tad, from City Point, Va., on April 4, 1865, up the James River, to Richmond, to view the captured capital of the Confederacy. Confederate river obstructions would prevent Lincoln from progressing further, on the Malvern, so a longboat was dispatched to take the President up the James, the last few miles, to Richmond. Certainly Landsman Powell was on the Malvern, at that time, but we cannot know if he was one of the oarsmen assigned to the longboat that brought the President to Richmond.
The overall condition of this rare and historically important document is good; the paper is in reasonably good condition, exhibiting some age holes, fold lines, minor paper loss, at the corners, as well as one modest area, in the upper, front left of the discharge that appears as if something was taped and then removed from the surface, leaving some staining and loss of print. All printing and handwritten lettering is in very good condition and completely readable. This is a very significant and rare bit of Civil War naval history. SOLD